Picture order of the kata puzzle
To solve the puzzle you have to move all the pictures to the correct position. Start at the left upper corner and work through the "matrix" until you reach the lower right corner – one row after another:

The number of pictures is different, and is depending on the resolution and size of your display or screen.
Moving the pictures
To move a picture you simply use the drag & drop funtion of your browser, just click on a picture, hold the mousebutton down and move the pic to another position. Release the button, if you believe you have found the correct position.
The app buttons

| | |
| --- | --- |
| mix the pics | –> mix the cards / pictures |
| I'm ready – check it | –> I'm ready, check my solution |
| resign – solve it automaticly | –> please sort all the pictures for me |
| small pictures / big pictures | –> change the size of the pictures |
| zoom | –> activate the zoom function |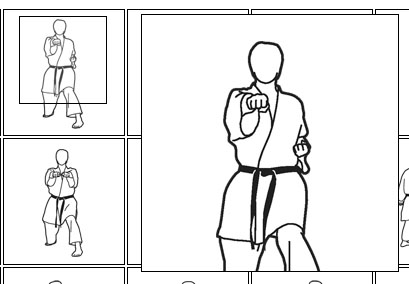 Identical techniques / pictures
If two techniques / pictures are all the same, they can be swapped. Typical example is the start and end technique of the most kata.
Sometimes it is complex
If it is easy, everyone is able to solve it 🙂 Sometimes you have to compare two pictures in detail to see the differences (use the zoom function). Sometimes you will see only the back, then you have to consider, which arm must be at hikite or which leg is in the air. Is the hip in correct position? Is the stance the right one?
In case of doubt press the "resign – solve it automaticly" button or take a look into the kata books of Fiore Tartaglia Volume 1 / Volume 2.
Smartphones and tablets
The puzzle may not work on your mobile devices, because of different javascript events. Maybe there will be a bit time next year to implement the tap event.
You have found a mistake
Please send me a message, if you have found a mistake: send message